Okay I have always been proud of the way I cook up any meat, and when it comes to Chukar my go to know is usually breaded and airfried then served with some BBQ sauce (if you read other posts my sauce truly is the best in the whole world…
I also love substituting it for chicken in Apricot chicken recipes. Its great deep fried, croc pot man just about any way. But tonight I had what might be my new favorite recipe of all time. I will share it with you. It was adapted i.e. ripped off and changed from a google search for flavors I was craving. I left out the white wine, substituted heavy whipping cream for the double cream, rosemary for parsley. Who likes parsley anyway? Bacon for Pancetta due to my budget and white mushrooms for the same reason.
Pan Fried Chukar breasts and leg quarters in a creamy white wine sauce.
An easy pan-fried chukar breast recipe in a creamy white wine sauce with sliced chestnut mushrooms and smoky pancetta. Chukar recipes don't need to be complicated, this simple chukar recipe proves that!
It's a rich and meaty dinner party classic that's sure to impress your guests! Serve with carrot and swede mash and roasted Tenderstem broccoli!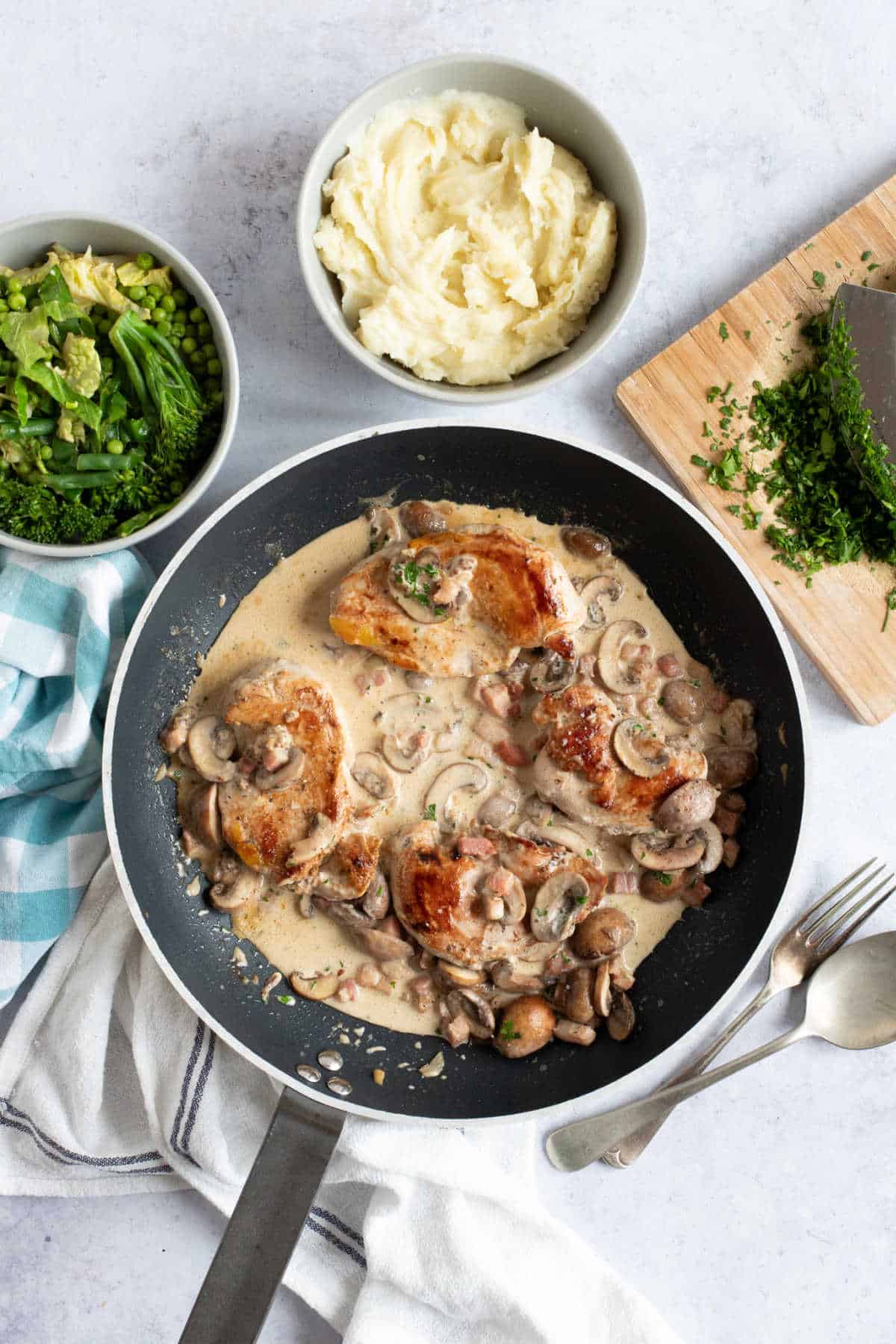 ✔️ WHY YOU'LL LOVE THIS RECIPE!
Chukar offers a distinct taste that's both richer and more nuanced than traditional poultry. This gamey flavour can elevate a simple dish to something more gourmet.
The rich, gamey flavour of Chukar complements the creamy white wine sauce. This creates a balanced dish where neither the meat nor the sauce overpowers the other.
Chukar breasts are lean cuts, providing a good source of protein with less fat compared to some other meats.
Chukar Breasts – four skinless pheasant breast fillets.
Butter and Olive Oil – for pan frying.
Garlic – finely chopped.
Chestnut Mushrooms – or use closed cup mushrooms instead.
Pancetta – this can be substituted for smoked bacon lardons or chopped streaky bacon.
Creamy Sauce – made with white wine, double cream, wholegrain mustard, and freshly chopped parsley.
Salt and Pepper – for seasoning.
One: Heat the butter and oil in a frying pan until foaming. Season the chukar breasts with salt and pepper then place in the pan and cook for 5 minutes.
Two: Turn the chukar breasts over and cook for a further 4 minutes until golden brown (check with a sharp knife to see if they are cooked through). Remove the chukar to a plate to rest.
Three: Put the chopped garlic, sliced mushrooms, and pancetta in the frying pan (on a medium-high heat) and cook for 3-4 minutes until the mushrooms are tender.
Four: Pour in the white wine and let the majority of the liquid evaporate off.
Five: Stir in the cream, wholegrain mustard, and parsley and simmer on a low heat for 2-3 minutes.
Six: Return the chukar breasts to the pan and warm through for 2 minutes before serving.
EXPERT TIPS
If your chukar breasts are particularly small, turn them after 4 minutes.
After cooking, let the chukar breasts rest for 5-10 minutes. This allows the juices to redistribute throughout the meat, resulting in a juicier bite.
Chukar breasts are very low in fat so it's essential you don't skip on the olive oil and butter when pan frying, otherwise you risk them drying out.
🍴 SERVING SUGGESTIONS
Serve the Chukar breasts with creamy mash, roast sweet potatoes, air fryer broccoli, and slow cooker red cabbage.
VARIATIONS
Don't like mushrooms? Add spinach instead.
Try using a dry cider instead of white wine in the creamy sauce.
Make a sauce with fresh blackberries, red wine, and balsamic vinegar. The sweet and tangy sauce contrasts nicely with the chukar.
Wrap the chukar breasts in sage leaves and prosciutto before pan-searing
Flavour the sauce with tarragon instead of parsley.
Try oven-roasting or slow-cooking the chukar instead of pan-frying.
Use chicken breasts or pork steaks when chukar isn't in season.